Actaea Simplex 'Atropurpurea Group' - Tall Dark and Handsome
Submitted by Webmaster on Sun, 03/22/2015 - 11:04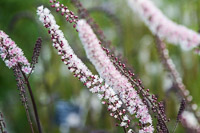 Actaea Simplex 'pink spike'
One charming common name for Actaea Simplex 'Atropurpurea Group' (formerly Cimicifuga) is Fairy Candles. Some call it Bugbane which refers to the insect repellent properties of the plant.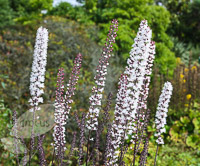 Actaea Simplex 'atropurpurea'
Looking for a spectacle in your garden? Plant this tall, dark and handsome beauty. The dark lacy foliage is topped with 2 foot long bottle brush flowers that bloom in late summer-early fall creating a dramatic backdrop to your border. Give them semi shade to shade conditions, moisture, and site them from strong winds. They are slow growing but patience does have its rewards.
Actaea Simplex 'atropurpurea' has fragrant creamy white blooms. Actaea Simplex 'pink spike' has fragrant pale pink spikes. Watch the fluffy flower spires attract butterflies as they wave to reach the sky.
Patti Millar, Plant Sale Co-Chair
Log in to post comments

4961 reads