Arboretum Leaves On Way to Members
Look for the Spring issue of Arboretum Leaves in your mailbox or inbox early next week.
It features a fabulous trip to Long Island in June.
Blackburn Scholarship Tea
There is still time to register for the Benjamin Blackburn Scholarship Tea.
The room will be filled with sound of bird song as ornithologist, Randolph Scott Little, tells us all the fascinating details of bird communication.
Please support this scholarship, given to a student in the Landscape Technology Program at Morris County Community College by registering here.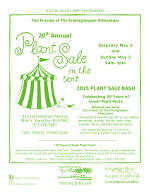 Plant Sale 2015
The Friends 20th Annual Plant Sale will take place the first weekend in May.
Former Plant Sale Chair, Sue Acheson, will give a talk about some of the sale's featured plants on April 18.
Sign up by clicking the image at right.
Upcoming Affiliate programs include:
Great Swamp Bonsai Society on March 10 at 7pm
NJ State Chrysanthemum Society on March 13 (rescheduled) at 7:30pm
NARGS on March 15 at 10am
Community Garden Conference News
For those of you who are coming to the Community Garden Conference and for those who are not, here's a link to a video about our keynote speaker, Joseph Simcox.
Please note the required password
Link: https://vimeo.com/119379950
Password: candy25
Seed-Starting Chart
Here's a handy chart for some simple seed starting from Margaret Roach:
http://awaytogarden.com/when-to-start-seeds-calculator/
Beautiful Photos
And finally, move over Ansel Adams, here are some spectacular images of trees around the world.
Speaking of photographs, we have a fabulous new exhibit in the gallery in March by Morristown High School student, Karel Raska. Please stop by to see it.
Retail Partners
As a member of The Friends of The Frelinghuysen Arboretum you can enjoy discounts at our Retail Partners. Please show your Friends' membership card at time of purchase. Click here to see the up-to-date list of fine vendors.
Matilda's Café
Matilda's Café is closed for the season and will re-open in April.
All our events can be found on our Events Page where, we are happy to say, you can register and pay on line -- just click on the "Add to Cart" buttons on our Events page and Membership page. Alternatively, you may register by calling 973-326-7603.