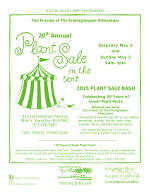 Plant Sale News
Have you perused the 2015 Plant Sale list yet? If not, now is a great time to check it out!
Likewise, have you registered for the FREE Plant Sale Preview talk on Saturday. April 18? A few seats are open, so please register now.
This and other Plant Sale information may be found in the Plant Sale section below.
Box Supper for Members-Only Preview Plant Sale
Have a freshly made, delicious box supper delivered right to the Plant Sale Tent on Friday May 1st night!
Matilda's Café is offering a tasty selection of boxed supper choices for $15.00 each.
Here are the choices:
Horseradish-Dijon Ham Sandwich with Cheddar Cheese & Coleslaw;
Roasted Turkey Sandwich with Avocado, Swiss Cheese & Tomato;
Brie Cheese Sandwich with Fresh Arugula & Cucumber;
Assorted Cheeses Sandwich with Prosciutto, Lettuce & Red Pepper; or
Homemade Hummus Sandwich with Grilled Vegetables
All sandwiches are served on your choice of Rustic Italian Bread, Whole Wheat or French Croissant and come with a bag of chips, a bakery-fresh short bread cookie, a bottle of water, a napkin and implements.
To order (by credit card) your box supper now, please call Christina at 973-394-1100.
And remember, Matilda's Café opens for the 2015 Season on April 10!
Injury Free Gardening
Who was in their garden last week?
Who feels sore?
OK everyone, put your hands down and register now for Injury Free Gardening on Saturday May 9 (click on image at right). You'll enjoy the friendly approach of two outstanding physical therapists and learning some new ways to move in your garden!
Lilacs: An Old Fashioned Plant for Modern Day Gardens
We can almost smell them now. Lilacs, that is!
If your old lilac needs some rejuvenation or you are searching for the perfect lilac for your garden, learn about them on Saturday April 25th at Willowwood Arboretum and enjoy their splendid collection.
Register on line by clicking here.
Make a Culinary Herb Strawberry Jar
Got a sunny spot near your kitchen door? If so, you have room for an herb garden, especially if you plant it in a strawberry jar.
Take Make a Culinary Herb Strawberry Jar on Wednesday May 6th and you will be all prepared for a summer's worth of cooking and grilling.
Click the image at right to register on line.
Cooking Demo: Chutneys
What's the perfect accompaniment for barbeque? Chutneys! Learn about chutneys, get some great recipes and sample a smattering of these tasty relishes prepared by Chef Cynthia Triolo.
Register for this Sunday April 19th class on line by clicking here.
Affiliates offerings -- early April:
African Violet Club of Morris County
April 15 - What do I do with that African Violet I just bought?
The NJ State Chrysanthemum Society
April 10 - Planning your Vegetable Garden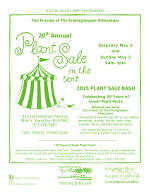 2015 Plant Sale
Plant Sale Preview Talk
Find out about 20 years of great plant picks as well as what's new and exciting at "plantaholic" Sue Acheson's talk -- with lots of slides, highlighting her picks and favorites.
Register online for this Saturday, April 18th program by clicking here.
Members-Only Preview Plant Sale
Have you registered for the Friday, May 1st Members Only Preview Plant Sale?
This Friday night do is the place to be for first pick of a great selection of plants for your garden. The preview sale is free to members, but registration is required.
By the way, if you'd like to order a boxed supper, it can be waiting you at the Plant Sale Tent. Here is the menu: Spring Menu -- just call Christina Renfer at 973-394-1100 to reserve your supper now.
The Main Sale
The Main Event takes place on Saturday and Sunday, May 2nd and 3rd, from 9:00a to 3:00p. Open to all.
Plant Sale Page
We have added lots of plants to our On-Line Plant List so take a look and start your wish list. Also, there are several new articles on our Plant Sale Page where you can the whole scoop on this year's Plant Sale.
Retail Partners
As a member of The Friends of The Frelinghuysen Arboretum you can enjoy discounts at our Retail Partners. Please show your Friends' membership card at time of purchase. Click here to see the up-to-date list of fine vendors.
Matilda's Café Opens Soon
Matilda's Café is set to open on April 10. Why not stop by on Saturday or Sunday and enjoy a menu item?
Check out their spring menu on the Matilda's Café page.
All our events can be found on our Events Page where, we are happy to say, you can register and pay on line -- just click on the "Add to Cart" buttons on our Events page and Membership page. Alternatively, you may register by calling 973-326-7603.