Spring Doodle from Margaret Roach
As we step out into spring and appraise our gardens, we can all relate to enjoy this "doodle" from Margaret Roach's fabulous blog ' A WAY TO GARDEN.
Last Call for Plant Sale Preview Talk
Now, for a less guilty approach to plant selection - it's last call for the Plant Sale Talk this Saturday, April 18.
Former Friends President, Sue Acheson, joyfully describes her top picks, culled from many years of experience in her beautiful Morristown garden.
Register on line by clicking here.
Lilacs: An Old Fashioned Plant for Modern Day Gardens
Lilacs buds are swelling and, with some warmer weather, they may be in bloom at Willowwood Arboretum when Marc Zukovich explains everything about this favorite shrub on April 25.
Instead, or in addition to, giving a lilac to a Mom in your life, why not give her this class too?
Click on the image to register on line.
Injury Free Gardening
As soon as you get your new plants home, the real work begins. Get ready for all the bending, stretching and lifting involved in our favorite sport - gardening!
On May 9, Physical Therapists Joel Hischorn and Dave Mistry demonstrate the best ways to move to avoid injury as well as strategies for gardening post joint replacement surgery.
Have you registered for:
Both of these are FREE member benefits - so, register now!
Affiliates offerings -- early May:
5/5 No. American Butterfly Association - General Meeting
5/7 Frelinghuysen Arboretum Gesneriad Society - Growers Forum
5/13 African Violet Club of Morris County - Leaf Bingo
All these programs are free to the public.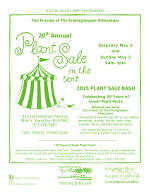 2015 Plant Sale
Plant Sale Preview Talk
Find out about 20 years of great plant picks as well as what's new and exciting at "plantaholic" Sue Acheson's talk -- with lots of slides, highlighting her picks and favorites.
Register online for this Saturday, April 18th program by clicking here.
Members-Only Preview Plant Sale
Have you registered for the Friday, May 1st Members Only Preview Plant Sale?
This Friday night do is the place to be for first pick of a great selection of plants for your garden. The preview sale is free to members, but registration is required.
By the way, if you'd like to order a boxed supper, it can be waiting you at the Plant Sale Tent. Here is the menu: Spring Menu -- just call Christina Renfer at 973-394-1100 to reserve your supper now.
The Main Sale
The Main Event takes place on Saturday and Sunday, May 2nd and 3rd, from 9:00a to 3:00p. Open to all.
Plant Sale Page
We have added lots of plants to our On-Line Plant List so take a look and start your wish list. Also, there are several new articles on our Plant Sale Page where you can the whole scoop on this year's Plant Sale.
Retail Partners
As a member of The Friends of The Frelinghuysen Arboretum you can enjoy discounts at our Retail Partners. Please show your Friends' membership card at time of purchase. Click here to see the up-to-date list of fine vendors.
Matilda's Café Now Open
Matilda's Café is now open every Friday, Saturday and Sunday through Fall from 10:00a to 5:00p. Why not stop by and enjoy a menu item?
Check out their spring menu on the Matilda's Café page.
All our events can be found on our Events Page where, we are happy to say, you can register and pay on line -- just click on the "Add to Cart" buttons on our Events page and Membership page. Alternatively, you may register by calling 973-326-7603.