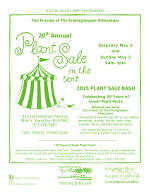 Friday Night Members Only Plant Sale
Come One, Come All (Members, that is!)
The website mistakenly listed the Friday Night Members Only Plant Sale as filled! The Friday Night Members Only Plant Sale is open, and we are waiting for your registration.
Do it right now by clicking here.
Members Only Annual Meeting
The Members Only Annual Meeting on Sunday, June 14 offers a great talk by David Wheeler.
David is the head of Conserve Wildlife NJ. His talk on New Jersey's unmatched biodiversity will astound you!
Please register now for the talk, the refreshments and the genial company of your "Friends."
Register on line by clicking here.
Culinary Herb Strawberry Jar
Even if you don't have room for a whole herb garden, you probably have room for a Culinary Herb Strawberry Jar.
Register now for this class on Wednesday May 6 by clicking on the jar at right.
Lilacs: An Old Fashioned Plant for Modern Day Gardens
Last call for Lilacs. This is a good chance to stretch your legs at Willowwood Arboretum on Saturday, April 25.
Marc Zukovich will use the collection there to teach you all about this lovely shrubs.
Register by clicking here.
South Fork Saunter
Experience the Magic of Madoo (www.madoo.org) as The Friends do the "South Fork Saunter!"
We'll visit Long Island's great gardens, do some retail therapy and explore the town of Riverhead.
All aboard for another great overnight garden visit! Tuesday / Wednesday, June 2nd and 3rd
Register by clicking the flyer at right.
Affiliates offerings:
The Frelinghuysen Arboretum Gesneriad Society is hosting a Growers Forum on May 7 at 7:30pm. Bring your questions for a panel of knowledgeable folks to answer!
Have you marked Sunday, June 7 in your calendar for the Great Swamp Bonsai Society show? It's always such a treat to see these specimen trees and meet the members who lavish them with care and love.
She Sheds
And now - a response to the "man cave." Check out these "she sheds!"
Anyone inspired? Check out this link: http://www.retale.com/blog/man-cave-she-shed/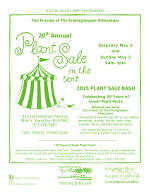 2015 Plant Sale
Members-Only Preview Plant Sale
Have you registered for the Friday, May 1st Members Only Preview Plant Sale?
This Friday night do is the place to be for first pick of a great selection of plants for your garden. The preview sale is free to members, but registration is required.
By the way, if you'd like to order a boxed supper, it can be waiting you at the Plant Sale Tent. Here is the menu: Spring Menu -- just call Christina Renfer at 973-394-1100 to reserve your supper now.
The Main Sale
The Main Event takes place on Saturday and Sunday, May 2nd and 3rd, from 9:00a to 3:00p. Open to all.
Plant Sale Page
We have added lots of plants to our On-Line Plant List so take a look and start your wish list. Also, there are several new articles on our Plant Sale Page where you can the whole scoop on this year's Plant Sale.
Retail Partners
As a member of The Friends of The Frelinghuysen Arboretum you can enjoy discounts at our Retail Partners. Please show your Friends' membership card at time of purchase. Click here to see the up-to-date list of fine vendors.
FEATURED PARTNER: Blue Morel Restaurant
Moone-Tsai Wine Dinner - May 1st
Blue Morel is proud to host a wine dinner with Larry Tsai, owner of award winning Napa Valley winery Moone-Tsai on Friday, May 1, 2015 at 7p.m. Enjoy a 4 course menu paired with Moone-Tsai. Winemaker Philippe Melka is considered "One of the world's top nine consulting winemakers…" by Robert Parker, The Wine Advocate and "Napa Valley's hottest consulting winemaker" by Food & Wine Magazine. $99 per person (excludes tax and gratuity)
Mother's Day - May 10th
Treat Mom to an unforgettable 3 Course menu at Blue Morel Restaurant $68 adults / $34 children under 12 from 12 noon to 9pm. Or enjoy our breakfast buffet $23 adults / $12 children under 12 from 6:30 am to 10am. The Wine Room is available for private parties up to 18 people.
Friends of the Frelinghuysen Arboretum receive a 10% discount on food. For reservations, Please call 973-451-2619
Matilda's Café Now Open
Matilda's Café is now open every Friday, Saturday and Sunday through Fall from 10:00a to 5:00p. Why not stop by and enjoy a menu item?
Check out their spring menu on the Matilda's Café page.
All our events can be found on our Events Page where, we are happy to say, you can register and pay on line -- just click on the "Add to Cart" buttons on our Events page and Membership page. Alternatively, you may register by calling 973-326-7603.