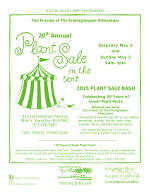 Friday Night Members Only Plant Sale
Friday night's weather forecast calls for a cool, but sunny evening.
Are you planning a trip to the Members Only Preview Plant Sale?
If you have not yet registered, please do so now by clicking the image at right. And yes, you must be a member!
Get Your Box Supper Here!
For your shopping convenience, you may pre-order a delicious box supper from Matilda's Café.
Call Christina Renfer at 973-394-1100.
It will be delivered to the Plant Sale tent to maximize your shopping time. Matilda's will be open on Saturday and Sunday too.
Grow, Cook, Eat: Container Vegetables
Why not plant some of your containers with edibles?
Come to Grow, Cook, Eat: Container Vegetables on Wednesday May 20 and learn what works and what tastes great.
Register on line by clicking the image at right.
South Fork Saunter
Long House Reserve
On June 2 and 3, we are heading to Long Island for two days of garden touring.
Included on our "South Fork Saunter" is Long House Reserve in East Hampton.
This 16 acre estate contains unique garden setting and world class sculpture reflecting the aesthetic of its owner - renowned textile designer Jack Lenor Larsen. Water lilies, lotus, Chihuly glass and De Kooning art installations greet you on your guided tour there.
Click the picture at left for more details and on line registration.
Those Crazy Victorians
So much of Charles Darwin's work involves animals. But did you know that our rare book collection contains several of his botanical writings?
Learn about Darwin and his Victorian compatriots at "Those Crazy Victorians: Plantsmenship in Great Britain ca. 1837-1901 on Sunday June 7th.
Register on line by clicking the image at right.
Support the Friends Through Amazon Smile
The Friends are now "Prime"
The Friends are now registered on Amazon's Smile program. Sign up on your Amazon account and 0.5% of your purchases will be donated to us.
What's in Bloom
Plant in Bloom Volunteer, Phil Dahlen is back on the "job."
Read his up-to-date list by clicking here.
Affiliate Member Programs
Free and no registration required!
May 5 at 7:30pm: The North American Butterfly Association. General meeting
May 7 at 7:30pm: The Frelinghuysen Arboretum Gesneriad Society. Growers Forum
May 13 at 7:30pm: African Violet Club of Morris County. "Leaf Bingo"
May 20 at 10:15am: The Home Garden Club of Morristown. Tour of Trillium Woods and Bamboo Brook Outdoor Education Center - call 973-713-6352 for details.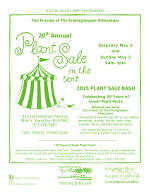 2015 Plant Sale
Members-Only Preview Plant Sale
Have you registered for the Friday, May 1st Members Only Preview Plant Sale?
This Friday night do is the place to be for first pick of a great selection of plants for your garden. The preview sale is free to members, but registration is required.
By the way, if you'd like to order a boxed supper, it can be waiting you at the Plant Sale Tent. Here is the menu: Spring Menu -- just call Christina Renfer at 973-394-1100 to reserve your supper now.
The Main Sale
The Main Event takes place on Saturday and Sunday, May 2nd and 3rd, from 9:00a to 3:00p. Open to all.
Plant Sale Page
We have added lots of plants to our On-Line Plant List so take a look and start your wish list. Also, there are several new articles on our Plant Sale Page where you can the whole scoop on this year's Plant Sale.
Retail Partners
As a member of The Friends of The Frelinghuysen Arboretum you can enjoy discounts at our Retail Partners. Please show your Friends' membership card at time of purchase. Click here to see the up-to-date list of fine vendors.
FEATURED PARTNER: Blue Morel Restaurant
Moone-Tsai Wine Dinner - May 1st
Blue Morel is proud to host a wine dinner with Larry Tsai, owner of award winning Napa Valley winery Moone-Tsai on Friday, May 1, 2015 at 7p.m. Enjoy a 4 course menu paired with Moone-Tsai. Winemaker Philippe Melka is considered "One of the world's top nine consulting winemakers…" by Robert Parker, The Wine Advocate and "Napa Valley's hottest consulting winemaker" by Food & Wine Magazine. $99 per person (excludes tax and gratuity)
Mother's Day - May 10th
Treat Mom to an unforgettable 3 Course menu at Blue Morel Restaurant $68 adults / $34 children under 12 from 12 noon to 9pm. Or enjoy our breakfast buffet $23 adults / $12 children under 12 from 6:30 am to 10am. The Wine Room is available for private parties up to 18 people.
Friends of the Frelinghuysen Arboretum receive a 10% discount on food. For reservations, Please call 973-451-2619
Matilda's Café Now Open
Matilda's Café is now open every Friday, Saturday and Sunday through Fall from 10:00a to 5:00p. Why not stop by and enjoy a menu item?
Check out their spring menu on the Matilda's Café page.
All our events can be found on our Events Page where, we are happy to say, you can register and pay on line -- just click on the "Add to Cart" buttons on our Events page and Membership page. Alternatively, you may register by calling 973-326-7603.