Halloween Fun for Kids!
Does This face look scary? No, but Cait Flavin sure knows a lot about scary plants.
Kids will love making a bog garden for Halloween with her on Sunday October 18th.
It will last long after the candies are gone.
Click here to register on line.
Getcha' Garlic Here-
Learn how to grow this tasty allium and purchase cloves to plants.
We have many unusual cultivars to select from.
Click here to register on line for this Saturday October 24th program.
Fall Bloom, Bark and Berry
What's happening in your garden right now tree and shrub-wise?
If it's kinda dull - then learn how to add some punch with Marc Zukovich. Marc has a suggestion for every garden, including yours!
Click the flyer at right to register on line.
Saturday October 17th.
Designing the Gardens at Chihuly Gardens and Glass
Please join us on Sunday, October 25.
Stunning, right? How did two these creative geniuses work together?
Which came first - the plant or the glass?
What was it like to work with Dale Chihuly?
Find out - register on line by clicking here.
Affiliate Offerings
FREE, No registration required.
Mum's The Word
The Chrysanthemum Society's Annual Show is this weekend!
Saturday, Noon - 4 & Sunday, 10 - 4
A beautiful display of the many forms of this most beloved flower family. The weather's supposed to be perfect for a trip to Matilda's and the show!
Retail Partners
As a member of The Friends of The Frelinghuysen Arboretum you can enjoy discounts at our Retail Partners. Please show your Friends' membership card at time of purchase. Click here to see the up-to-date list of fine vendors.
Enjoy Your Friends Membership Discounts at Sunnyside Garden & Gifts in Stanhope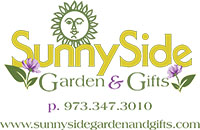 Please welcome The Friend's newest retail partner: Sunnyside Garden & Gifts. Sunnyside's full service Garden Center & Gift shop is a one-stop resource for garden enthusiasts. This family-owned nursery is opened year round and provides a friendly and knowledgeable staff to help you.
Bring your Friends Membership card to enjoy 10% off your plant purchases. (click logo to go to Retail Partners page for details).
Amazon Smile
Don't forget to "SMILE!"Amazon Smile, that is!
Amazon, through the AmazonSmile Foundation will contribute 0.5% of your purchases on Amazon to a charitable organization you select. Please consider selecting The Friends of the Frelinghuysen Arboretum as your designated recipient from this wonderful program.
Click here and log in to your amazon account to designate the Friends as your charity.
Matilda's Café Open Through Fall
Matilda's Café is now open every Friday, Saturday and Sunday through Fall from 10:00a to 5:00p. Why not stop by and enjoy a menu item?
Check out their menu on the Matilda's Café page.
All our events can be found on our Events Page where, we are happy to say, you can register and pay on line -- just click on the "Add to Cart" buttons on our Events page and Membership page. Alternatively, you may register by calling 973-326-7603.