Help Me!
Gingerbread Tips & Techniques
Hoping to enter the 2016 Gingerbread wonderland, but need help?
If your gingerbread house attempts look like this, register now for advice from an expert.
Click the image to register for "Gingerbread Tips and Techniques" on Saturday November 7.
Boo in the Bog
Last call for "Boo in the Bog" with carnivore breeder, Cait Flavin.
Adults are also welcome to join this bog dish-making class, this Sunday October 18, complete with venus fly traps!
Scary stuff!
Click here to register on line.
Exceptional Fall Trees and Shrubs
The parade of autumn colors has begun.
"Exceptional Fall Trees and Shrubs" includes the changing colors, but also the exfoliating barks and brilliant berries that make for fall and winter interest.
Marc Zukovich explains it all in this Saturday October 17th program.
Click the flyer to register on line.
A Garlic Primer
We're tearing out a bed of annuals and making room for GARLIC!
If you want to learn how to grow garlic and get some great garlic cultivars to being with, register here for "A Garlic Primer" on Saturday October 24.
Great Speaker: Richard Hartlage
Our Great Speaker Series continues on Sunday October 25 with a talk by award winning landscape architect, Richard Harltage.
Learn how Richard and glass artist, Dale Chihuly, created Chihuly Garden and Glass in Seattle, Washington.
Click the flyer image to register on line for this exciting program.
Affiliate Offerings - FREE and no registration required
October 18 – North American Rock Garden Society offers a talk on Spring in the Mountains of Central Asia this Sunday, at 10am
What's in Bloom At the Arboretum
Coming for a walk? Check out what's in bloom right here with our on-line What's in Bloom list, updated regularly by volunteer Phil Dahlen.
This week's update is Phil's last of the season. Another year has rocketed by and his updates have chronicled the ever-changing tapestry of blooms at the Frelinghuysen Arboretum. Thanks to Phil for his regular updates throughout the summer.
Retail Partners
As a member of The Friends of The Frelinghuysen Arboretum you can enjoy discounts at our Retail Partners. Please show your Friends' membership card at time of purchase. Click here to see the up-to-date list of fine vendors.
Enjoy Your Friends Membership Discounts at Sunnyside Garden & Gifts in Stanhope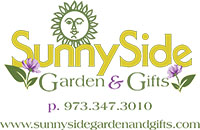 Please welcome The Friend's newest retail partner: Sunnyside Garden & Gifts. Sunnyside's full service Garden Center & Gift shop is a one-stop resource for garden enthusiasts. This family-owned nursery is opened year round and provides a friendly and knowledgeable staff to help you.
Bring your Friends Membership card to enjoy 10% off your plant purchases. (click logo to go to Retail Partners page for details).
All our events can be found on our Events Page where, we are happy to say, you can register and pay on line -- just click on the "Add to Cart" buttons on our Events page and Membership page. Alternatively, you may register by calling 973-326-7603.