Chuck Hinkle
PHS GOLD MEDAL PLANTS
This Saturday, April 21
Chuck Hinkle, a member of the Pennsylvania Horticultural Society (PHS) Gold Medal Plant Committee, speaks about his favorite plants.
His talk focuses on the winners of this prestigious award, all of which you will want to plant in your own garden.
Click Chuck's picture at right for more information and on-line registration.
4TH ANNUAL TUBBS LECTURE AT WILLOWWOOD ARBORETUM
Sunday, April 29
The Tubbs Lecture is presented annually at Willowwood Arboretum to honor the memory of Henry and Robert Tubbs.
This year's guest speaker, Dr. Allan Armitage, is well known as an award-winning writer, speaker and researcher throughout the world. Come for his lecture, "Tales From the Garden", a book signing and a walk about the garden.
See our flyer for details.
5% DAY AT WHOLE FOODS MARKETS
Tomorrow - Thursday, April 19
Shop at the Morristown and Madison Whole Foods Markets and support "Branching Out", The Frelinghuysen Arboretum's children's gardening program.
See flyer for details.
ARBOR DAY CELEBRATION AT THE FRELINGHUYSEN ARBORETUM
Click to enlarge
On Monday, April 16, 2018 The Friends of The Frelinghuysen Arboretum honored Cynthia Triolo, MCPC Staff Member and Ilona Ontscherenki, Friends Board Member and Volunteer for their many, outstanding contributions to The Friends' programs and events at the Arboretum. A celebration luncheon was held at the Arboretum and Dogwood trees were planted on the Arboretum's grounds in their honor.
The tree planted for Cynthia is a Cornus x rutgersensis 'Rutban' cv. Aurora and the tree planted in honor of Ilona is a Cornus x rutgersensis 'Rutcan' cv. Constellation.
Congratulations to Cynthia and Ilona, and thank you for your many contributions!
23rd Annual Plant Sale - Friday, May 4th through Sunday, May 6th
Volunteers needed! We would appreciate your help. Click here for our on-line Volunteer Signup Form.
Click Here for On-line Plant List
Ramp Up Your Gardening Know-How
Get Ready for Our Big Plant Sale in May!
The Friends' mission is education and our big event to support all of our programs throughout the year is our big Plant Sale in the Tent during the first weekend in May, May 5 and 6. (Members Only shopping on May 4)
Throughout the month of April we're offering a number of Gardening programs for free or a nominal fee to help you get your garden ready for spring (umm, when will that be?), and to help you plan for shopping at the sale, of course. Our first talk (last week) was so popular that we ask you to pre-register for the upcoming talks. Just follow the links, below, for more information and registration:
Saturday, April 21 at 10:00 am - PHS Gold Medal Plants
Chuck Hinkle, Scott Arboretum at Swarthmore (see above for details). Register here
Saturday, April 28 - Morris County Master Gardeners' extravaganza of popular talks
No registration needed -- just walk in.
10:00 am Renewing Your Garden, Veronica Dengler,
1:00 pm Cottage Gardening Style, Diane Lattanzio,
3:00 pm Starting Your Vegetable Garden, Wing-Yee Pavlosky
Friday, May 4 at 2 pm - Exclusive presale celebration and talk by Caren White, The Herb Lady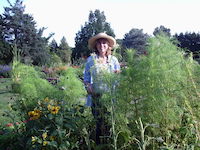 Caren White
Join us at 2 pm on May 4th at the Haggerty Center at Frelinghuysen Arboretum for a special, members-only gathering and an engaging talk by Caren White, AKA The Herb Lady, who will offer timely tips and lively lore about growing herbs.
Light, herb-themed refreshments will be served.
Click Caren's picture for more information and to register on line.
See our Plant Sale page for more details on these talks and this year's plant sale.
Free Affiliate Member Programs:
North American Butterfly Association
Tue May 1, 2018 7:30p
Programs to be announced
Affiliate member programs are all free and open to the public.
Retail Partners
When shopping at our fine Retail Partners, please remember to present your Membership card at the beginning of your check out transaction. Our Retail Partners need to enter the discount at the beginning of that process.
If you have not yet used this wonderful Member Benefit, you can view our full list of Retail Partners by clicking here.
Amazon Smile
Don't forget to "SMILE!"Amazon Smile, that is!
Amazon, through the AmazonSmile Foundation will contribute 0.5% of your purchases on Amazon to a charitable organization you select. Please consider selecting The Friends of the Frelinghuysen Arboretum as your designated recipient from this wonderful program.
Click here and log in to your amazon account to designate the Friends as your charity.
All our events can be found on our Events Page where, we are happy to say, you can register and pay on line -- just click on the "Add to Cart" buttons on our Events page and Membership page. Alternatively, you may register by calling 973-326-7603.