PLANT SALE THIS WEEKEND! Fri - Sun, May 4 - 6
Lots more Plant Sale information, below.
We Need Your Help At the Plant Sale!
We need you as a Friend of the Arboretum to volunteer a few hours to help on the weekend of the Plant Sale.
We still have openings in the teams that will be checking out all those awesome plants; no one works alone and only basic arithmetic is needed to count plants, add up purchases, make sure correct amounts are written on checks or to use Square to swipe a credit card. No personal equipment is needed, we supply everything, including calculators.
WHAT'S SO GREAT ABOUT … BULBS
Thursday, May 17
View the spectacular display of blooming fall planted bulbs and learn about the varieties chosen by our Horticulture staff. Questions like how were they planted, why were they chosen, how were they deer-proofed, what pests and diseases to monitor for and more will be answered.
Click the flyer for details and registration.
THE WORLD OF PEONIES WITH DAN FURMAN OF CRICKET HILL GARDEN
Sunday, May 20
Cricket Hill Garden specializes in peonies with over 400 varieties. Dan Furman's lecture covers the botany and cultivation history of the various types of peonies in China, Japan and the U.S. and attendees will learn how to create a successful peony garden.
Click the flyer for details and registration.
DEER RESISTANT NATIVE PLANTS
Wednesday, June 6
While no plant is deer proof, Michael Van Clef, Project Director, NJ Invasive Species Strike Team will speak about native plants that deer often leave alone. He will also offer "tricks and tips" to effectively grow non-deer resistant native plants.
Click the flyer for details and registration.
MEMBERS ONLY PLANT SALE REMINDER:
If you are a Member, please don't forget to register to attend the Members Only Plant Sale on Friday, May 4 from 4:00 to 7:00 PM. Click here for more information and registration.
We have lots of wonderful plants for you to choose from, here's a photo of a small sampling of what awaits you! (click to enlarge)
Setting Up in Tent, by Margery Ennist
MEET AND GREET AT THE PLANT SALE Sat May 5, 2018
Are you new to the area, or looking for some new friends who share your gardening and nature interests? Come meet members of some of the organizations who are affiliated with The Friends of The Frelinghuysen Arboretum. They will have tables in the parking lot next to the big tent on Saturday (rain date Sunday) during the Plant Sale. Say hello, and find out about their programs and activities. It may be the start of a new hobby for you!
Participating Organizations:
African Violet Club of Morris County
Frelinghuysen Arboretum Gesneriad Society
Home Garden Club of Morristown
NJ Butterfly Club
NJ State Chrysanthemum Society
NJ Mycological Association
North American Rock Garden Society—Watnong Chapter
Tri-State Hosta Society
23rd Annual Plant Sale - Friday, May 4th through Sunday, May 6th
Click Here for On-line Plant List
Presale Celebration & Talk by Caren White, The Herb Lady - Fri, May 4 at 2 pm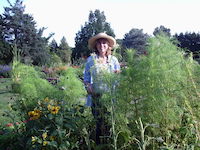 Caren White
Join us at 2 pm on May 4th at the Haggerty Center at Frelinghuysen Arboretum for a special, members-only gathering and an engaging talk by Caren White, AKA The Herb Lady, who will offer timely tips and lively lore about growing herbs.
Light, herb-themed refreshments will be served.
Click Caren's picture for more information and to register on line.
Members-Only Plant Sale - Fri May 4 from 4 - 7 pm
Click here for more information and registration.
Public Sale - Sat / Sun May 5 / 6 from 9 am to 5 pm
Details here and on our Plant Sale page.
See our Plant Sale page for more details on these talks and this year's plant sale.
Free Affiliate Member Programs:
The Frelinghuysen Arboretum Gesneriad Society
Thu May 3, 2018 7:30p
"Growing Smaller Rhizomatous Gesneriads – our Lesser-known Treasures" slide program by Dr. Jeremy Keene. Rhizomatous gesneriads come from Central and South America. Learn how to grow these interesting plants.
Great Swamp Bonsai Society
Tue May 8, 2018 6:30p - 9:30p
Bonsai Education Tuesday
African Violet Club of Morris County
Wed May 9, 2018 7:30p
Program "Growing and Showing African Violets" – slide program by Sandy Skalski
The Home Garden Club of Morristown
Wed May 16 Bus Trip Fundraiser
Enjoy a day touring Jenkins Arboretum, Chanticleer Garden and PHS Meadowbrook Farm. See all the details at www.homegardenclub.org. Lunch will be bring your own. Cost is $75. Send check to "Home Garden Club of Morristown" c/o Pam Venanzi, 539 Openaki Rd., Randolph, N.J. 07869.
For information call Pam at 973-713-6352.
Affiliate member programs are all free and open to the public.
Retail Partners
When shopping at our fine Retail Partners, please remember to present your Membership card at the beginning of your check out transaction. Our Retail Partners need to enter the discount at the beginning of that process.
If you have not yet used this wonderful Member Benefit, you can view our full list of Retail Partners by clicking here.
Amazon Smile
Don't forget to "SMILE!"Amazon Smile, that is!
Amazon, through the AmazonSmile Foundation will contribute 0.5% of your purchases on Amazon to a charitable organization you select. Please consider selecting The Friends of the Frelinghuysen Arboretum as your designated recipient from this wonderful program.
Click here and log in to your amazon account to designate the Friends as your charity.
All our events can be found on our Events Page where, we are happy to say, you can register and pay on line -- just click on the "Add to Cart" buttons on our Events page and Membership page. Alternatively, you may register by calling 973-326-7603.