In addition to the programs highlighted in this issue of the eblast, check our website for the 12th Annual Community Garden Conference, the Blackburn Scholarship Lecture, a program by Garden Designer Jan Johnsen and much more.
Four consecutive Saturdays: January 8, 15, 22 and 29 from 1:00 to 4:00 PM
VIRTUAL ZOOM PROGRAMS
This series of classes would make a wonderful Christmas gift for the budding artist on your gift list. What better way to spend four winter Saturday afternoons than exploring the beauty of flowers by learning how to draw them!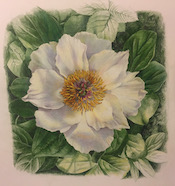 What better way to learn about and enjoy our natural world than to draw it? And what subject is more captivating than a flower? This intro course teaches you techniques for drawing using flowers as the primary focus. The class will include instruction in the use of drawing tools (graphite, pen and colored pencil), techniques for shading, elements of perspective, visualization of light on form, color theory and basic understanding of plant structure.
Katy Lyness is a passionate home gardener whose interests brought her to NYBG's Botanical Illustration Program. She has been represented in the American Society of Botanical Artists' Annual International Exhibition and is active in the Tri-State Botanical Artists Group. She has an MA in Art Education from Columbia University, Teacher's College.
A Materials List is available on our website under the program description.
Enrollment is limited to 16 students.
Sunday, January 16 - 4:00 PM
VIRTUAL ZOOM PROGRAM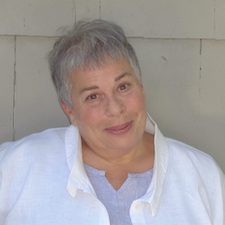 Defined as "the absence of color", black in its many hues can highlight, offset and dramatize every real color in your garden. Understand how to use black hued plants for maximum impact. Over 75 dark beauties, including annuals, perennials, vines, trees and shrubs are featured in this compendium of powerful plants. Lesley will cover their habits and culture, and a useful plant list will be provided. To create rhythm, punctuate place, outline areas and focus the eye, nothing works like black. Keep the drama out of your house, and in the garden!
Lesley is a member of the Herb Society of America, The Council on Horticultural and Botanical Libraries, and Garden State Gardens, a consortium of New Jersey's public gardens of which she is a founding member and past President. Her column, The Garden Historian, is featured bi-monthly in Gardener News Magazine. Retired as Superintendent of Horticultural Education at New Jersey's Morris County Park Commission, Lesley offers illustrated lectures and hands-on workshops to garden clubs, plant and historical societies, Master Gardener groups and libraries.
Thursday, January 20 - 7:00 PM
VIRTUAL ZOOM PROGRAM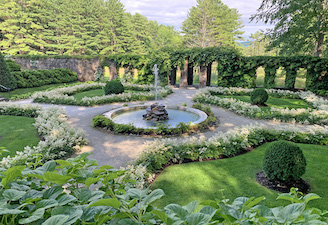 Do you enjoy beautiful gardens? In this armchair tour of some of the best public gardens and hidden gems of New England, you will learn about each garden's history, horticultural highlights and special events that will inspire you to plan your own visit. (The photo at right shows a garden at Edith Wharton's home, The Mount, in Lenox, MA.)
Jana Milbocker is a garden designer, speaker and author. She combines horticulture, design and travel tips to educate, inspire and delight both new and seasoned gardeners. She is the author of The Garden Tourist, The Garden Tourist's New England and The Garden Tourist's Florida. Jana has lectured at flower shows, horticultural societies, garden clubs and libraries throughout the Northeast. She is the owner of Enchanted Gardens, a landscape design firm in the Boston area.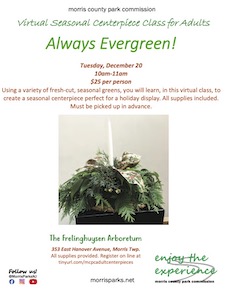 FROM THE MORRIS COUNTY PARK COMMISSION
Always Evergreen - A virtual seasonal centerpiece class for adults
Monday, December 20 - 10:00 - 11:00 AM
Click on the flyer for more information and to register,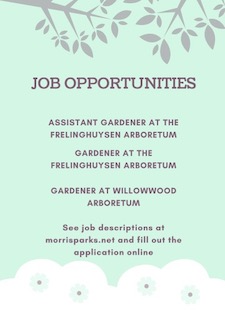 Job Opportunities at the Frelinghuysen & Willowwood
There are several gardening job opportunities available at The Frelinghuysen Arboretum and Willowwood Arboretum.
Click on the flyer for more information on these positions and where to fill out an application.
We've been enjoying some unusually warm December weather lately, and a leisurely walk through the grounds at the Arboretum brought to light some interesting flora. The tiny red buds of next year's flowers on Pieris japonica, the yellow berries of Ilex opaca cv. Princeton Gold, the tight evergreen foliage of Cryptomeria japonica and the green spears and delicate threads of Yucca filamentosa. Visit soon and see what interesting flora you can find.
Click an image to see them all in our website's picture gallery. Picture credits: Margery Ennist.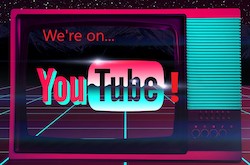 FRIENDS YOUTUBE CHANNEL
We are happy to announce that the Friends of The Frelinghuysen Arboretum now have a YouTube channel.
Please visit by clicking the image (or go to: https://www.youtube.com/channel/UCCwLu6l-05_VnSNQlkvi3Aw)
We are pleased to make several of our previously recorded events available in case you missed one or another of them.
When shopping at our fine Retail Partners, please remember to present your Membership card at the beginning of your check out transaction. Our Retail Partners need to enter the discount at the beginning of that process.
If you have not yet used this wonderful Member Benefit, you can view our full list of Retail Partners by clicking here.
Amazon Smile
Don't forget to "SMILE!"Amazon Smile, that is!
Amazon, through the AmazonSmile Foundation will contribute 0.5% of your purchases on Amazon to a charitable organization you select. Please consider selecting The Friends of the Frelinghuysen Arboretum as your designated recipient from this wonderful program.
Click here and log in to your amazon account to designate the Friends as your charity.
All our events can be found on our Events Page where, we are happy to say, you can register and pay on line -- just click on the "Add to Cart" buttons on our Events page and Membership page. Questions or need more information? Email Lisa Bencivengo: lbencivengo@arboretumfriends.net or leave a message at (973) 937-8803.