Gladiators of the Garden – Hellebores
Submitted by Webmaster on Sun, 03/22/2015 - 10:59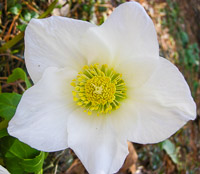 Helleborus niger Potter's Wheel
Leftover snow is still on the ground, we've celebrated St. Patricks' Day but for gardeners it is a time that we anxiously peek outside to see what has survived winter's wrath.
I carefully crunch through the remaining icy snow drifts to see if my hellebores are ready to surprise me with their brave, early blooms. I call them the gladiators of my garden…strong, assertive plants willing to combat the frigid weather and fight to bloom in spite of it. No contest here – hellebores win.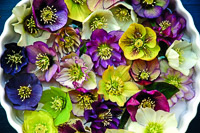 Helleborus hybridus Brandywine
Helleborus niger Potter's Wheel has gorgeous, large white flowers with a prominent yellow stamen and shiny dark green foliage. Helleborus hybridus Brandywine has a wide selection of lovely colors and flower shapes.
Hellebores tolerate sun to shade conditions and will reward you with a long bloom period lasting from late winter into early spring. This is a tough, deer resistant yet beautiful plant guaranteed to fight and win in your garden.
Patti Millar, Plant Sale Co-Chair
Log in to post comments

3537 reads