Herbs Galore
Submitted by Webmaster on Sun, 03/29/2015 - 11:43
Don't just pour, grow your own
... refreshing (and lo-cal) summer drinks!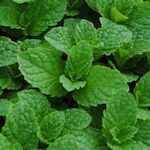 Mojito Mint
Admit it, we gardeners all do it at least some time, hit that wall in the afternoon after a day of digging when we retreat into the kitchen for a 'muscle relaxant' break, preferably on a lot of ice. Well, don't just pour, when you can grow your favorite elixir this summer!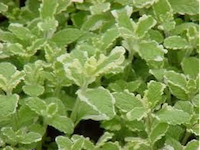 Pineapple Mint
We are carrying Mojito mint, which is a a type of spearmint, at the sale. Spearmint, not peppermint, is the flavoring of choice for -- wait for it == mojitos and mint juleps and even non alcoholic spritzers and iced teas.
Because any mint likes to spread, plan to sink a pot of it in you herb garden or grow it in a nice big pot on your patio, where it will be handy for a flavor or aroma pick me up when you need one. We'll have a fun chocolate mint for you to grow, too, and a variegated pineapple mint. Think garnish for homemade ice cream or sorbet or...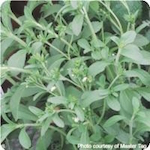 Stevia
And now you can grow low calorie versions of your favorite summer drinks because we are offering Stevia plants this year, too. You may already have used zero calorie packets of stevia in your drinks, but you can grow this plant in your herb garden and make yummy simple syrup by muddling the leaves and steeping in water for a bit, then mixing up your mojitos, juleps, etc. That way, the only calories in your delicious drink are from any other additives you may feel you need, which will likely depend on how much weeding you may just finished.
Cheers!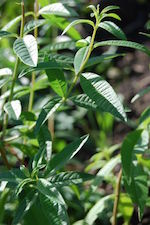 Lemon Verbena
Lemon verbena is not Lemon balm
So many of us have had a bad time with lemon balm, which you can buy everywhere, but is often nothing but a problem. It's fuzzy leaves make it difficult to enjoy in a dish, it loses it's flavor when heated so is not good for tea, and it is wildly rampant and spreads not only by runners like most mints, but also by prolific seeding. I've had it appear 100 feet from where I last tore it out. Ouch!
Enter lemon verbena, which already sounds more proper, doesn't it? More English cottage, more soft scented breeze in the air, more a friend you have invited over for a nice chat. At that chat, you can steep some fresh picked leaves and make a lovely hot tea to serve. You can snip some fresh leaves into a salad or dressing for those tea sandwiches. You can even make a smooth sun tea served over ice (and possibly sweetened with some stevia?). Lemon verbena holds its lovely, delicate flavor in most recipes. It also grows as as a well-kempt bushy herb in your garden. Or, plant in a container near a path where you can count on brushing against it to release its lovely scent.
Two terrific Basils
Two terrific Basils you absolutely need to have in your herb garden
First, have you seen boxwood basil? If not, you will at the plant sale this year -- if you come early enough. This gorgeous little guy naturally grows in a nice rounded shape and to only about 12-18 inches. It would look terrific as an edging in your potager or as the geometric structure in a mini knot garden (I'm thinking of those amazing elevated ones at Filoli, have you seen them?). Not only is it super tidy and ornamental, it tastes like basil so you'll use it in all your summer cooking.
We're happy to report that we've increased our supply of Basil perpetua this year. This is the variegated leaf basil that doesn't bolt. It's another plant that stays attractive throughout the summer and doesn't turn bitter just when you need some nice clean flavor for your last-minute pesto.
Scented geraniums are not just for you nose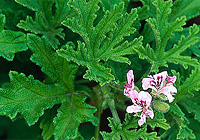 Scented Geranium
Yes, these fuzzy leaved geraniums are usually grown for their leaves, not their flowers. The leaves are scented, so fun to brush against to release the fragrance. Also to put into sachets and such. But have you ever baked with them? I received one of the most charming treats I could ever imagine from an early gardening mentor: a rose geranium pound cake. Just a few leaves finely chopped into the batter gave the most exquisite, delicately floral flavor to the sweet treat and was delightful with an afternoon cup of tea. Doesn't that give you more ideas for recipes? We'll have rose-scented geraniums in the herb section at the sale.
==Ilona Ontscherenki, Plant Sale Co-Chair
Log in to post comments

4415 reads