Something Tall & Handsome in Your Perennial Bed?
Submitted by Webmaster on Tue, 04/21/2015 - 17:01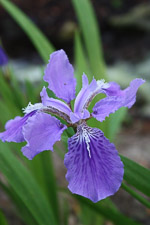 I. Wolong
Well, if it's not a full-time gardener, then the next best to find there are iris. We'll have iris species that bloom from May into Sept. and some that bloom in June and again in August. The tectorums in blue and white usually are in full flower for the sale. Their stature may be short but the impact of their sweet bloom in your spring garden is enormous. For later in May into June you can choose from a wide selection of siberian and Japanese iris in a variety of colors. See the online plant list available on this page for details.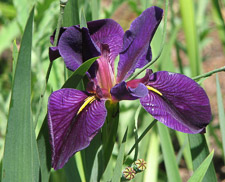 I. Black Gamecock
We'll also have beautiful iris with varigated leaves that will add color throught the growing season. And there's a Louisiana iris that's named 'Black gamecock' that is the darkest, richest purple you can imagine.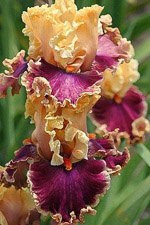 I. Decadence
For a serious statement, try one of the new reblooming iris. We'll have the amazing all-white 'Immortality'. I'm just reading Kelly Norris' book on bearded iris and he thinks this is the best of the rebloomers. He also likes 'Decandence', which we will have at the sale, too. The name says it all. These are just two of a almost a dozen you'll be able to choose from.
== Patti Millar & Ilona Ontscherenki, Co-Chairs
Log in to post comments

2985 reads